Couture Creations GoPress and Foil
GoPress and Foil & Accessories - Couture Creations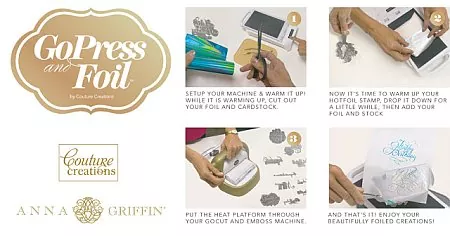 The GoPress and Foil Machine is a hot foiling and embossing (letterpress) machine from Couture Creations.
To work with the GoPress and Foil machine, you also need a die-cutting and embossing machine, e.g. the Big Shot from Sizzix. the Gopress and Foil is essentially an add-on module for the standard punching machines.
How does the GoPress and Foil machine work?
Heat (the GoPress heating plate heats up to a maximum of 90 degrees Celsius), foil (note! only heat-reactive foil works!!) and pressure from the punching machine transfer the motifs of the hotfoil stamps or punching templates to a wide variety of materials. For shiny and embossed results on your creative projects!
To be used with: paper, fabric, vellum, cardstock, cardboard, chipboard etc.

Be sure to watch: Couture Creations' introductory video with application tips!
1
to
9
(from a total of
9
)