Stamping Bella
Stamping Bella Rubber Stamps for lots of crafting fun!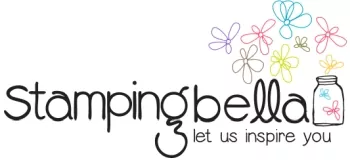 Stamping Bella is a stamping company based in the USA that believes in the magic of rubber stamps. The special trademark of their rubber stamps: they are turquoise in color. All stamps from Stampingbella are so-called rubber stamps and mounted on a thick EZ mount. All you need is an acrylic block and stamping ink and you can let your creativity run wild. Discover great stamp designs from series like Tiny Townies, Oddballs, Uptowngirls, Curvy Girls or Gnomes for your craft projects. More.....


Stamping Bella Rubber Stamps - mounted rubber stamps
Stamping Bella stamps are rubber stamps - already mounted on EZ-Mount. The hallmark of Stamping Bella stamps is the turquoise rubber stamp. You can easily use the Stampingbella Rubber Stamps with acrylic blocks, because they stick to the transparent blocks by themselves. All you need is some stamping ink and you can get started with your craft projects. After use, peel off the stamp from the acrylic block, clean it with a stamp cleaner and put it back in the packaging until the next use.